[ad_1]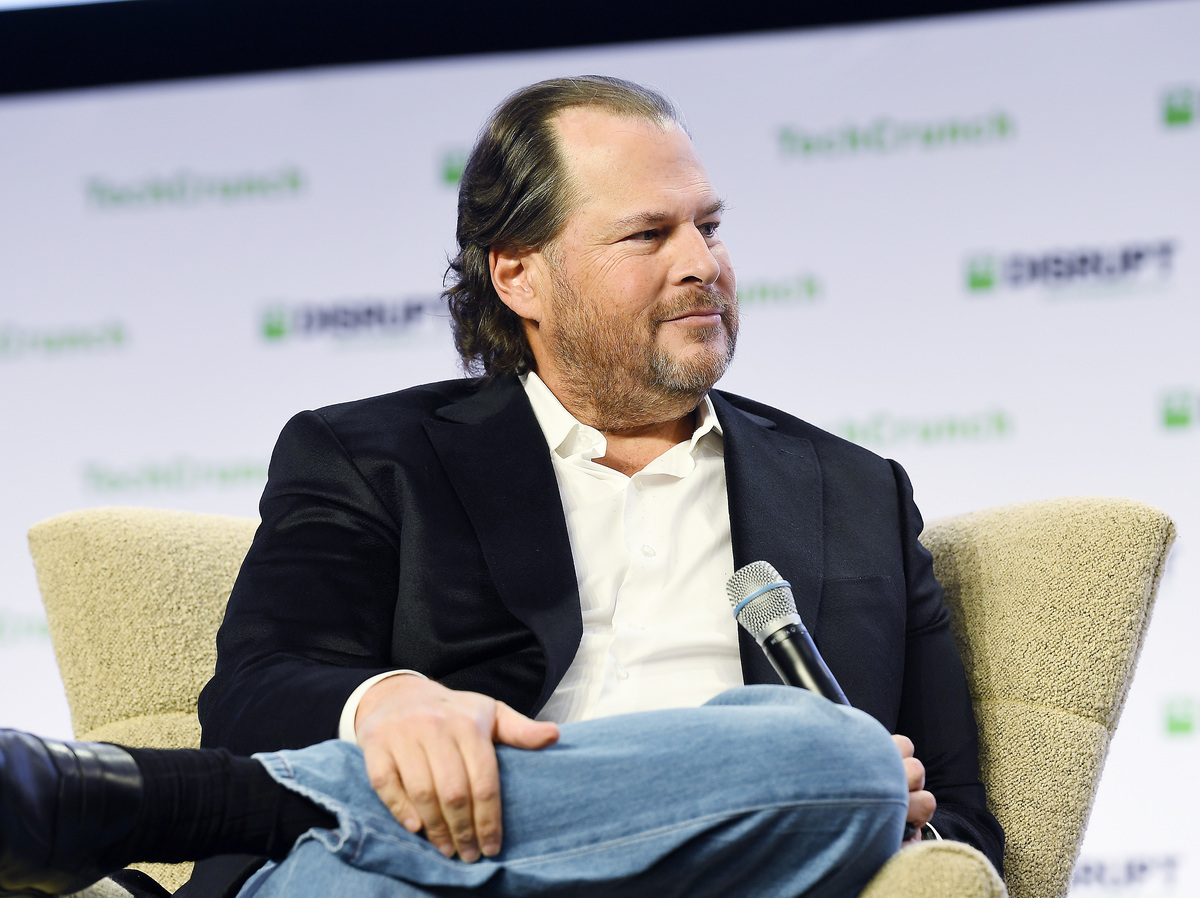 Steve Jennings/Getty Images for TechCrunch
When Texas enacted a controversial ban on most abortions in September, Salesforce CEO Marc Benioff sent a message to his staff in the state, punctuated with a heart emoji.
"Ohana if you want to move we'll help you exit TX. Your choice," Benioff wrote in a tweet, using the Hawaiian word for family.
It was a rare instance in which a CEO weighed in on a policy that sparked a political and legal firestorm. On Friday, the Justice Department announced it would ask the Supreme Court to put on hold Texas' restrictive abortion law until legal challenges are addressed.
The lack of corporate pushback in Texas has sparked handwringing in the corporate world: Should CEOs prioritize profit-making, as they traditionally have? Or should they forcefully wade in debates on social issues and public policy on behalf of their on customers, employees and shareholders?
Few have been as outspoken as Benioff, who founded Salesforce in 1999 after previously working at Oracle. Salesforce has grown to become a giant in software services for corporations, and recently bought the popular work messaging platform Slack.
During a recent interview with tech journalist Kara Swisher at the Code 2021 conference, Benioff further explained his thinking on Texas and other policies that he believes would adversely impact Salesforce staff.
"All I want to say to my employees is, 'I have your back,'" he said. "That is, 'I will take care of you.'"
Defining stakeholder capitalism
Benioff's outspokenness is part of his brand. He frequently and forcefully weighs in on controversial issues, including gun policy, human rights, climate change, and politics more broadly.
He is an evangelist for changing the way companies do business, a defender of what's called "stakeholder capitalism," or the belief that corporations should look beyond just the interests of its employees or shareholders and customers.
"We need a new capitalism that is more fair, more equitable, more sustainable," he told CNBC. "Capitalism that values not just all shareholders, but all stakeholders."
Benioff defines "stakeholder" more broadly than most of his contemporaries.
In a recent interview with NPR, Benioff said the planet is a Salesforce stakeholder, and so is the homeless community in San Francisco, where his company has its headquarters, and where his family has lived for four generations.
It's a kind of advocacy few other CEOs have engaged in, according to Benioff.
"When I first started, I don't think there were a lot of CEOs who were willing to speak out and really take positions outside of, maybe, their product," he told NPR.
Bloomberg/Bloomberg via Getty Images
Did George Floyd's killing change corporate America?
But that's starting to change — slowly.
In 2015, when Indiana passed a law that would have made it easier for business owners to deny services to same-sex couples because of religious beliefs, Benioff was joined by other CEOs, including Apple's Tim Cook and organizations like NCAA in denouncing the law.
That forced then-Governor Mike Pence to amend the law.
Last year, in a moment that seemed to represent a turning point for corporate America, executives widely condemned the killing of George Floyd, and many pledged to address racial inequality both within their companies and in society at large.
However, many company executives continue to stay away from hot-button issues.
"I think it's hard leading a company sometimes, to figure out what the company position is," said Debra Lee, the former chairman and CEO of Black Entertainment Television (BET). "There may be a lot of disagreement among employees or executives, or even board members."
Aaron P. Bernstein/Getty Images
The criticism against stakeholder capitalism
On top of that, there are risks of alienating customers and shareholders.
Critics argue stakeholder capitalism is a slippery slope. If you weigh in one thing, they say, there will be the expectation you address every other issue.
And many executives still believe CEOs should stick mainly to issues that impact their companies, like Harvey Golub, the former head of American Express.
"I think it is wrong for executives to take a company position on public policy questions that don't directly affect their business," Golub wrote in an op-ed for The Wall Street Journal earlier this year.
David Kenny, the CEO of market…
[ad_2]

Read More: Why the Salesforce CEO wants to redefine capitalism by pushing for social change