[ad_1]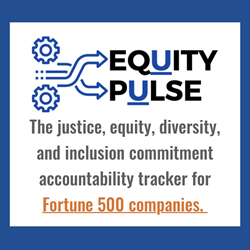 There's a lot of talk about justice, equity, diversity, and inclusion transformation in companies today, but how many companies are walking the talk? – Former GM, Intent Consulting and EquityPulse.io Founder and Bestselling Author Omar L. Harris
CHARLOTTE, N.C. (PRWEB)
September 29, 2021
Intent Consulting Founder, Former GM (GSK, Allergan), and Bestselling Author Omar L. Harris launches EquityPulse.io to help track the progress of 181 U.S. corporations whose CEOs signed the 2019 Business Roundtable "Statement of the Purpose of a Corporation". EquityPulse.io evaluates their results in the four J.E.D.I. Leadership areas of justice, equity, diversity, and inclusion using a 10-question anonymous employee survey. The platform transforms this data into a company profile that transparently shows their evolution and issues following through on commitments, actions, and impacts – from the employee perspective.
The Business Roundtable members include many Fortune 500 companies and corporations, who currently employ 20 million people, generate revenues of $9 trillion in annual revenues, and constitute a stock market capitalization of $18 trillion (SOURCE: Business Roundtable). Companies include JP Morgan Chase, Johnson and Johnson, Vanguard, Ford and more, whose CEOs all signed the Business Roundtable "Statement of the Purpose of a Corporation" to focus on Stakeholders vs Shareholders.
Harris believes: "There's a lot of talk about justice, equity, diversity, and inclusion transformation in companies today, but how many companies are walking the talk?"
With the current "Great Resignation" trend where 9 out of 10 employees are thinking about leaving their job (Monster.com survey) as a result of toxic ego-driven leadership, it's even more important for businesses to prioritize social justice, equity, diversity and inclusion.
As a Black Business Leader for global pharmaceutical companies and Intent Consulting Founder, Harris designed EquityPulse.io to give employees a voice on J.E.D.I. results. Harris' new tracker raises the question: "What if there was a company profile, completed by workers that held companies accountable for their stated commitments to change?"
As a Mission, EquityPulse.io transforms anonymous employee survey data into insights on the impact of these initiatives so that all stakeholders benefit."
In a recent Real Leaders article, Harris outlines the 5 Business Sins of Employee Inequity and solutions to reduce this toxic boss behavior:

1. Privileged Hiring – that creates the perception of scarcity and inequity

2. Sink or Swim Onboarding – indifference to new hire's initial success

3. Talent Whitewashing – one size fits all approaches to talent development

4. Corrupted Compensation – with disenfranchised people still not being fairly compensated

5. Targeted Termination – employees are subject to involuntary termination while executives get golden parachutes
Harris's goal with EquityPulse.io is to change the narrative, and create a positive work environment with J.E.D.I. Leaders who make all Stakeholders (employees, customers, community – and shareholders) versus only Shareholders a priority.
Harris believes that J.E.D.I. Leaders:

1. Hire for Behaviors, Not Pedigree – hire based on work-ethic, heart, optimism, and maturity (W.H.O.M.)

2. Go Overboard on Onboarding – spend quality time with their new hires to outline the expectations and provide support

3. Turn Talent into Strength – train to enhance employee strengths vs. weaknesses

4. Compensate Consistently – insist on an Internal Pay Equity Audit to eliminate pay inequities

5. Make Termination the Last Resort – view employees as the productivity and efficiency center of the company versus an expense that must be cut.
To put people first, companies must shift by making J.E.D.I. (justice, equity, diversity, and inclusion) initiatives a top priority. Harris believes the profits will come naturally and everyone will win by following the original intent of the 2019 Business Roundtable "Statement of the Purpose of a Corporation" in 2021 and beyond.
MEDIA CONTACT:

Liz Kelly, 310-987-7207
INTENT CONSULTING RESOURCES and BOOKS by OMAR L. HARRIS
NEW – EquityPulse.io – Accountability Tracker for Fortune 500 Companies

https://www.equitypulse.io
NEW – TYMPO.io web-based Inclusion App

https://www.tympo.io/
New Book (June 25, 2021) – with New Audiobook:

"Be a J.E.D.I. Leader, Not a Boss: Leadership in the Era of Corporate Social Justice, Equity, Diversity and Inclusion"

https://www.amazon.com/D-I-Leader-Not-Boss-Leadership/dp/B09762FVD1
The Servant Leader's Manifesto – Book (2020) and Audiobook (2021)

https://www.amazon.com/The-Servant-Leaders-Manifesto/dp/B08VNQ1BDD
Leader Board: The DNA of High Performance Teams (Leader Board Series) (2019)

https://www.amazon.com/dp/B07QMJSMV3
OMAR L. HARRIS (Charlotte, NC, born in Pittsburgh, PA) is the founder of Intent Consulting and TYMPO.io (the world's first and best SaaS application for employee inclusion), a Former GM (GSK and Allergan), Business and Servant Leadership Thought-Leader, Speaker, Award-Winning Bestselling Author of 5 books, including "Be a J.E.D.I. Leader, Not a Boss: Leadership in the Era of Corporate Social Justice, Equity, Diversity, and Inclusion", June 25 2021, "The Servant Leader's Manifesto", 2020, and "Leader Board: The DNA of High Performance Teams", 2019). With 20+ years of global pharmaceutical executive experience building teams, Omar has worked on 4 continents (U.S., Middle East, Asia and Latin America) for Pfizer, Merck, Schering-Plough and more. As a Gallup Certified Strengths Coach, Motivational Speaker, Entrepreneur and Florida A&M University Alumni, Harris is passionate about leading teams, high-performance coaching, and inspiring the future leaders of today and tomorrow to adopt the servant leader mindset and stop toxic leadership behaviors. Omar is also the Co-Author of "From Authors to Entrepreneurs F.A.T.E.: The Personal Side of Indie Publishing" (2015) and Author of "One Blood" fiction book (2011, pen name, Qwantu Amaru – currently being developed into a television series). Harris was a featured speaker at the 2021 International Institute of Leadership Conference with his compelling topic: "The End of the Boss – 7 Rules for the Modern Leader", a keynote speaker at the Leadership Harrisburg Area Graduation event, a featured speaker at the 2021 Rising Leaders Summit, a featured speaker at the BB21 Rise Conference, and a featured coach at the 11th annual WBECS Summit. His work has been featured by CNN HLN Weekend Express, WPXI-TV NBC Pittsburgh, Black News Channel, The Jewish Journal, The Beating Alpha Podcast, The Living Corporate Podcast, Real Leaders, SHRM Blog, Thrive Global, CEO World Magazine, Human Capital Innovations (HCI) Podcast, VoiceAmerica Business, Culture Stew and many more. As fun facts, Omar speaks 5 languages, plays 7 instruments, and started his first company at the age of 7. https://www.omarlharris.com

[ad_2]

Read More: Intent Consulting Launches EquityPulse Accountability Tracker for J.E.D.I. Leadership