[ad_1]

Cisco Systems Inc. is a company at the crossroads.
The networking giant is transitioning from a high-margin hardware business to a software subscription-based model through both organic moves and targeted acquisitions. It is doing so in the context of massive macro shifts to digital and the cloud.
We believe Cisco's dominant position in networking, combined with a large market opportunity and a strong track record of earning customer trust, put the company in a good position to capitalize on cloud momentum. But there are clear challenges ahead, not the least of which is the growing complexity of Cisco's portfolio, transitioning a large legacy business and the mandate to maintain its higher-profitability profile as it moves to a new business model.
In this Breaking Analysis, we welcome Zeus Kerravala, founder and principal analyst at ZK Research and longtime Cisco watcher who collaborated with us to craft the premise of this session. As always, we'll look at survey data from Enterprise Technology Research and provide our analysis of what it means for Cisco and the broader industry.
Catalyst: Cisco's Investor Day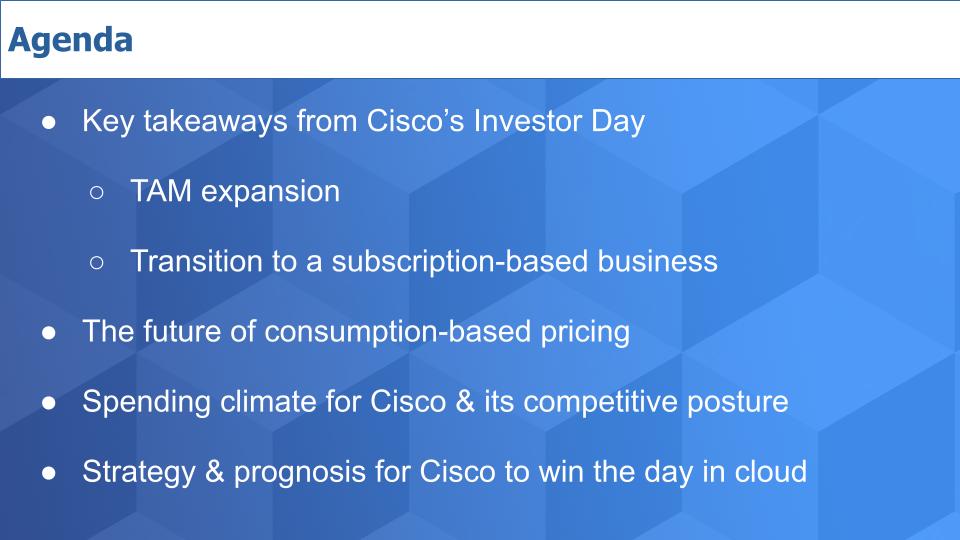 The genesis for this session was that we attended Cisco's Investor Day and received a day-and-a-half firehose of presentations, drill-downs and interactions with key Cisco executives and a customer.
We're going to share our takeaways from these sessions and add our additional thoughts. In particular, we're going to discuss how Cisco views its total available market, the company's transformation to a subscription-based model and how we see that evolving in the context of industry dynamics.
As always, we'll bring in some ETR spending data for context and get Zeus' take. And we'll end with a summary of Cisco's cloud strategy and outlook for how it can win in the cloud.
Understanding Chuck Robbins' organization
A little over a year ago, after the departure of Executive Vice President David Goeckeler, Cisco Chief Executive Chuck Robbins made moves to flatten the organization by both promoting from within and bringing in some outside talent. The company's executive leadership team comprises the requisite finance, administrative, human resources, communications, legal and policy executives.
Cisco's product groups are organized around logical technology areas, but it's sometimes difficult to map products to how Cisco goes to market. Generally the technology/product groups are organized around network equipment (Todd Nightingale), service provider routing (Jonathan Davidson), datacenter offerings/aka applications (Liz Centoni), collaboration and security (Jeetu Patel), silicon and optics (Eyal Dagan) and services (Maria Martinez). These execs often have additional cross-functional responsibilities, for example Liz Centoni is also the chief strategy officer and Maria Martinez is the chief operating officer.
Zeus Kerravala explained the executive leadership team organization as follows:
The ELT is organized around product roadmap and product innovation, but that's not necessarily the way customers purchase things. Cisco used to report to the Street three product segments: 1) infrastructure platforms, which was by far the biggest, it was all their networking equipment; 2) applications; and 3) security. Now it's moved to five new segments, secure agile networks, hybrid work, end-to-end security, internet for the future and optimized app experiences. And I think what Cisco's trying to do is align the way it reports to the way customers buy.
How Cisco thinks about its TAM
One of the big takeaways at the investor meeting was how Cisco sees its total available market. Liz Centoni and Chief Financial Officer Scott Herren showed the following slide: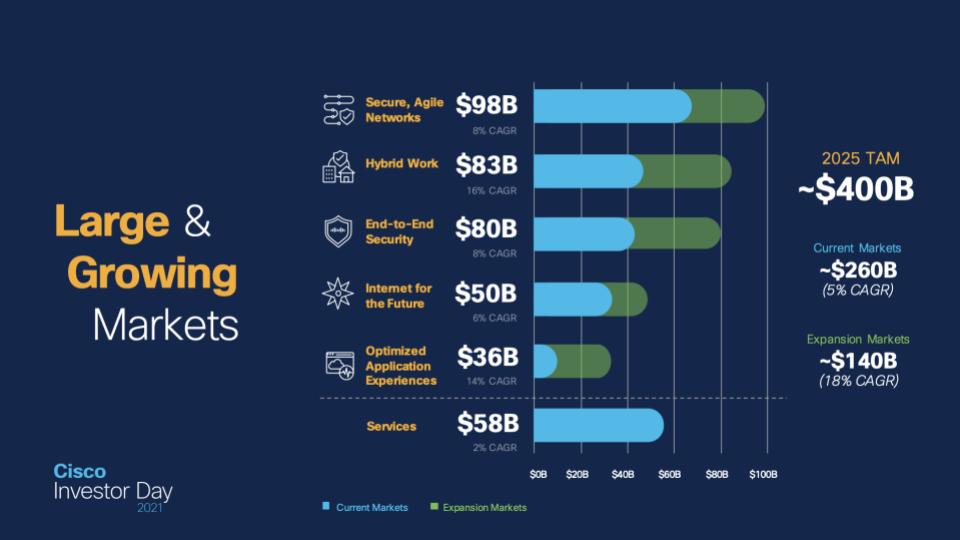 The message was that Cisco has a large and growing market and a TAM of somewhere between $800 billion and $900 billion depending on which slide and data points you use. The point is, Cisco is not constrained by lack of opportunity.
Zeus Kerravala gave his thoughts on Cisco's TAM expansion strategy:
The big takeaway from the data is there's still a lot of room ahead for Cisco to grow. It's a company most people would put in the camp of legacy IT vendor, just because of how long they've been around. But they have done a very good job of innovating. And part of that is just these markets that they play in continue to grow and customers continue to have challenges that Cisco can solve. One of the things Cisco has done since the arrival of Chuck Robbins is they don't fight these trends anymore. Prior to Chuck's arrival, they resisted the tide of software-defined networking and trends like cloud to some extent. I remember one of the first meetings I had with Chuck, I asked him about that and he said that Cisco will never do that again — that under his watch, if customers are going through a market transition, Cisco wants to lead them through it, not try to hold them back. And I think for that reason, they're able to look at all of those trends and try to take a leadership position in them, even though some of them might be detrimental to Cisco's business in the short term. For example, something like software-defined WANs, which you would throw into secure agile networks, may not carry the same kind of remaining performance obligations and margins that their traditional routers did, but ultimately customers are going to buy it and Cisco would like to be the one to sell it to them.
Transition to a subscription-based model
The other big takeaway was the shift to software and subscription revenue. Below is a chart Cisco showed to make the point that it's one of the largest software companies in the world – certainly within the top 10.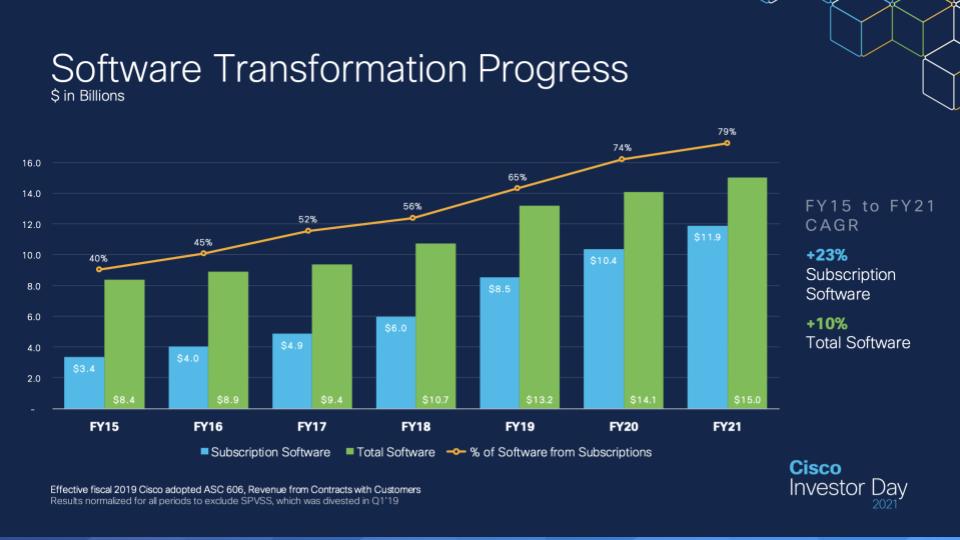 Cisco also stressed since Robbins became CEO in 2015, it has nearly quadrupled its subscription software revenue and roughly doubled its overall software sales. And it has remaining performance obligations that exceed $30 billion. It's also committing to grow its subscription business by 15% to 17%, a compound annual growth rate of 23% through fiscal year 2025, which would imply a doubling of the blue lines to more than $20 billion.
That forward-looking forecast likely includes some services that become bundled into subscriptions, the same way software-as-a-service companies report. But the point is that Cisco is committed, like many of its peers, to moving toward an annual recurring revenue or ARR model.
Zeus Kerravala stressed the following points:
This is a massive shift for Cisco and one that is disruptive not only to Cisco but also to the channel because of the shift away from a big up-front revenue recognition hit;
It dramatically changes the way you deal with the customer. When you sell a onetime product, you basically wipe your hands and come back in three or four years to say, "It's time to upgrade." When you sell a subscription, it becomes incumbent on the partner and Cisco to make sure that customer is adopting and renewing.
Cisco's pure software business – that is, in collaboration and parts of its security portfolio – can make this transition much more easily. The traditional networking equipment transition to ARR will be much more challenging.
On-prem as-a-service pricing is table stakes
Virtually every legacy hardware company has announced plans to move to consumption-based pricing. Hewlett Packard Enterprise Co. is all in with GreenLake, Dell Technologies Inc. has made APEX a priority, IBM Corp. has its version, as do Lenovo Group Ltd. and Cisco with Cisco Plus. Oracle Corp. was actually one of the first to implement such a model with its Cloud at Customer offering. We feel the following observations are important to highlight:
Generally we see these moves as necessary but insufficient for winning the day in cloud. These programs have typically evolved from service-led financing models and are five years late in coming to market in our view.
We believe they're largely a defensive response to the threat from cloud and a trend on Wall Street to reward predictable ARR models.
Most of these programs are vendor-centric, designed to preserve revenue and margins while appearing to give customers cloudlike flexibility. They are not true cloudlike consumption-based models in that they require customers to make a minimum commitment for a term regardless of consumption patterns. You can't ever shut off the one-way payment spigot like you can in public cloud.
These models…
[ad_2]

Read More: How Cisco can win cloud's 'Game of Thrones' – SiliconANGLE